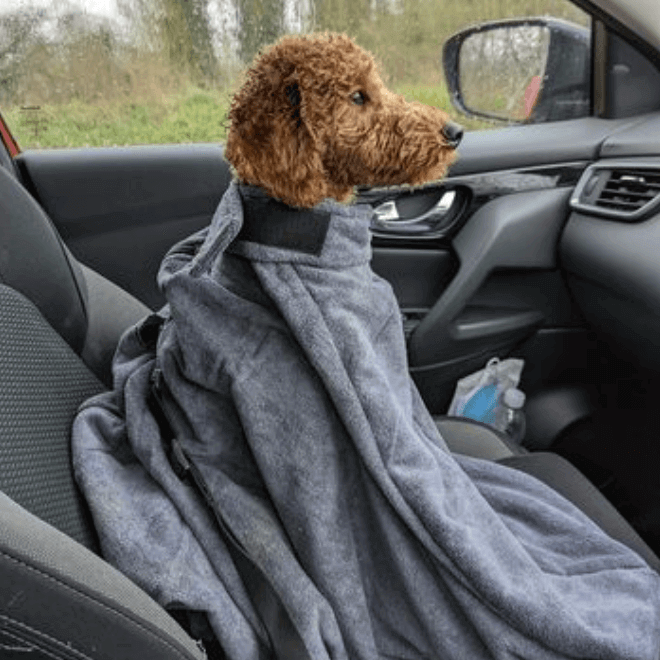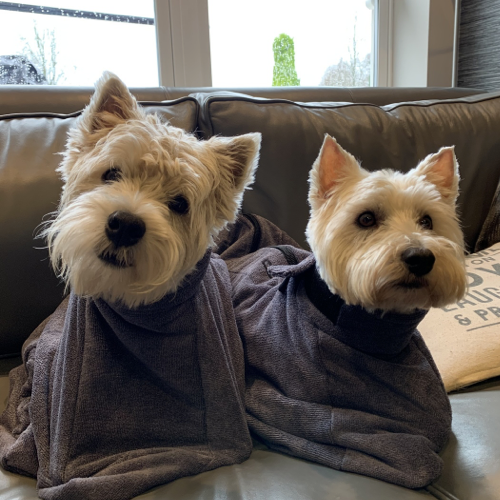 "What a difference this drying bag has made! it's amazing and so much better than a normal towel." - Michelle
Luxury Dog Drying Bag
Clean and dry your muddy dog

Protect your car and home

Fully adjustable velcro neck

Unique harness hole to secure in the car

Doesn't hold smells or hair

Car and motorhome safe

Available in 5 sizes for all breeds
With Free Delivery Over £60
100% Money Back Guarantee
Clean and dry your muddy dog

Protect your car and home

Fully adjustable velcro neck

Unique harness hole to secure in the car

Doesn't hold smells or hair

Car and motorhome safe

Available in 5 sizes for all breeds
Our premium, super-absorbent Luxury dog drying bag makes drying your pup effortless.




Made with thick, soft fabric, the special fibres work with your dogs body heat to clean and dry them at the same time. It draws out the moisture whilst allowing mud, sand and debris to collect in the bottom of the bag ready to shake out.




The adjustable velcro neck means pups are safe and secure while they dry. Designed for easy fastening around the neck rather than applying over the dog's head (we know a pup or two who are sensitive about that!). This is a particularly practical feature too if you're shopping for a puppy, the velcro will adjust to a small size so you can purchase the correct size for your fully grown pup and adjust the neck tightness as they grow.




Use up to 6 times between washes. It doesn't hold onto nasty smells, dirt, or hair meaning less laundry for you.




Voted as a finalist for Product Innovation Award 2022 by the Pet Industry Federation - the Pawdaw of London Drying Bag for dogs is the perfect solution for keeping your car, carpets, and furniture clean after bath time, muddy walks, or a trip to the beach.




Shipped beautifully gift-boxed in eco-friendly packaging, these make great gifts for your four-legged friends.

The bag needs to be oversized to allow your pup room to lie down, stretch and wriggle. It also helps deliver the most efficient cleaning & drying results. If unsure, always size up, It doesn't matter if it's too big, but it does matter if it's too small. If you still need help feel free to contact us to discuss.




Length - with your dog lay down, measure from tip of their paws to their tail and allow extra for wriggle room




Height - measure from the top of their collar to the floor, dog can be either in sitting standing position, allow extra for wriggle room




Neck - measurement not so important as it is fully adjustable with room to make bigger or smaller




Size Chart

Extra Small

Length 55cm x Height 30cm x Neck 32cm (Long Velcro neck adjustment) 

Miniature Dachshund (up to 5kgs unless very long), Chihuahua, Pomeranian, Biewer Terrier and similar size dogs




Small

Length 68cm x Height 48cm x Neck 40cm (Long Velcro neck adjustment)

Mini Dachshund (6kgs and above), West Highland Terriers, Border Terrier, Yorkshire terrier, Cairn Terrier, Miniature Schnauzer, Maltipoo, Miniature Poodle, Shih Tzu, Pugs, French Bulldog, Lhasa Apso, Cavapoo, Cockerpoo (up to 8kgs unless they have long legs) and similar size dogs




Medium

Length 88cm x Height 68cm x Neck 48cm (Long Velcro neck adjustment)

Springer Spaniel, Cocker Spaniel, King Charles Spaniel, Cockerpoo (between 9 and 20kgs), Beagle, Staffordshire Terrier, Shetland Sheep Dog, and similar size dogs. By end of July 2023 we will have Medium with longer Velcro adjustment for bulldogs.




Large

Length 108cm x Height 82cm x Neck 56cm (Long Velcro neck adjustment)

Siberian Husky, Akita, Labrador, Labradoodle, Border Collie, Boxer, Basset Hound, Bearded Collie, Standard Poodle, Giant Schnauzer, Dalmatian, Weimaraner, Red Setter, Small German Shepherd, Small Golden Retriever and similar size dogs




Extra Large

Length 125 cm x Height 102cm x Neck 68cm (Long Velcro neck adjustment)

Large German Shepherd, Large Golden Retriever, Newfoundland, St Bernard, Rottweiler, Cane Corso, English Mastiff, Afghan Hound, Dogue de Bordeaux, and similar size dogs.




COMING SOON: XXL for Great Dane, Irish Wolfhound and other larger breeds; and Medium-Wide for Bulldogs and breeds with a wider neck.

Directions of use

Lay the open dry bag flat on the floor, velcro the fully adjustable collar around your pup's neck, then zip it up around their body. Just shake and dry after use, can be used at least 5/6 times without the need to wash.




Care Guide

Machine washable at 30° or 40° degrees (we don't recommend fabric softener)

Shipping




Royal Mail Tracked 48 £3.99 (2 - 3 working days)

Free Shipping Over £60 (2 - 3 working days)




Processing Time




All orders are processed and shipped out in 1-3 business days. Orders are not shipped on weekends or holidays.

✓ Backed by Pawdaw's 90 Day Trial for a 100% Money-back Guarantee.




We know you'll love our products, but for added peace of mind every product is backed by our 90 Day Trial Guarantee*. If you've ordered the wrong size, or you're not happy for any reason - let us know and we'll make it right. To start a return, contact us via one of the methods below:




Call: 020 8099 9817

Email: info@pawdawoflondon.com




* Excluding discount or sale items

** Return postage is to be paid solely by the customer.
★★★★★
"Love this - we have a poodle cross who gets very wet and muddy, and no matter how many towels I would put in the car, he would manage to get footprints on the seat. With this, the car is protected and he stays lovely and warm and dries off. I looked at quite a few similar dry bags and this is the only one I found with a hole to secure his harness in the car, as he sits on the back seat. Nice and thick, well made."
Alison T, Luxury Dog Drying Bag Customer
What Makes Our Dog Drying Bags Better
Luxury That Saves Time & Money
Our doggy drying bags are made of a low pile, snag-free fabric, so they can stand up to a claw or tow! The interior of the bag includes plush twisted piles, increasing the absorbency and drying performance compared to other materials. Once your pooch is dry they can kick back on one of our luxury dog blankets.
Our dog drying bags use specialised fabrics designed so that they don't hold onto nasty smells, dirt, or hair. Because of our clever materials, you can use your dog drying bag at least 4 - 6 times between washing helping you save water, energy and effort. Why not check out our other luxury drying product, the dog drying towel?
The Pawfect Fit


We've made our dog drying bags easy to get in and out of for your dog. The fully-adjustable Velcro neck and zip combination allow you to get a perfect fit for your dog's comfort, whilst keeping mud, sand and your dog inside the bag at all times. If you're unsure, we recommend sizing up for extra snuggle room.
Car Friendly
Our doggy dry bag is made to make adventures with your pup easy and safe. Thanks to the harness hole, you can easily clip your pup's lead or harness to your car's Isofix points for peace of mind on the move. Plus there'll be no more mess in your car, motorhome or caravan after days out getting dirty. You can no head to your pup's favourite play spot with no worries about the mess! If it's an especially hot summers day, we suggest taking one of our dog cooling coats along with you for the ride.
Check out our full range of luxury dog products to elevate your pup's comfort today!
How does it work?
Our dog drying bags work with natural body heat to draw out mud and dry fur whilst allowing debris to collect in the bag.
It's As Easy As 1, 2, 3...
STEP 1: Lay bag unzipped and flat with your pup standing on top

STEP 2: Fasten the zip & velcro before leaving to dry for 30 minutes

STEP 3: Unzip the drying bag, shake out, your dog is clean and dry!
★ ★ ★ ★ ★
Rated 5-stars by 180+ customers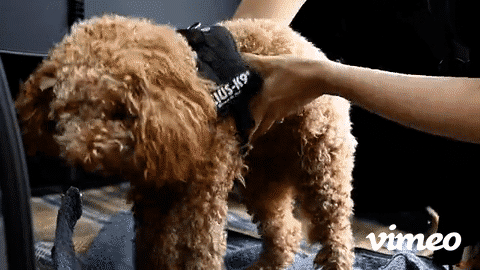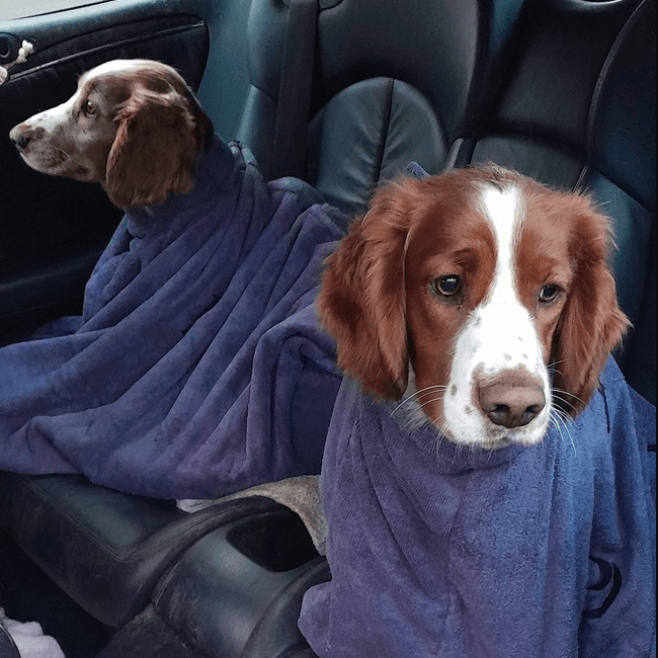 ★★★★★
"I have found this really easy to use, I have a convertible so space is tight - but I still manage, it is all about being organised. Results are amazing, my two come out dry and fluffy - this is a game changer. Even the seat is lovely and shiny xxx"
- Bronwyn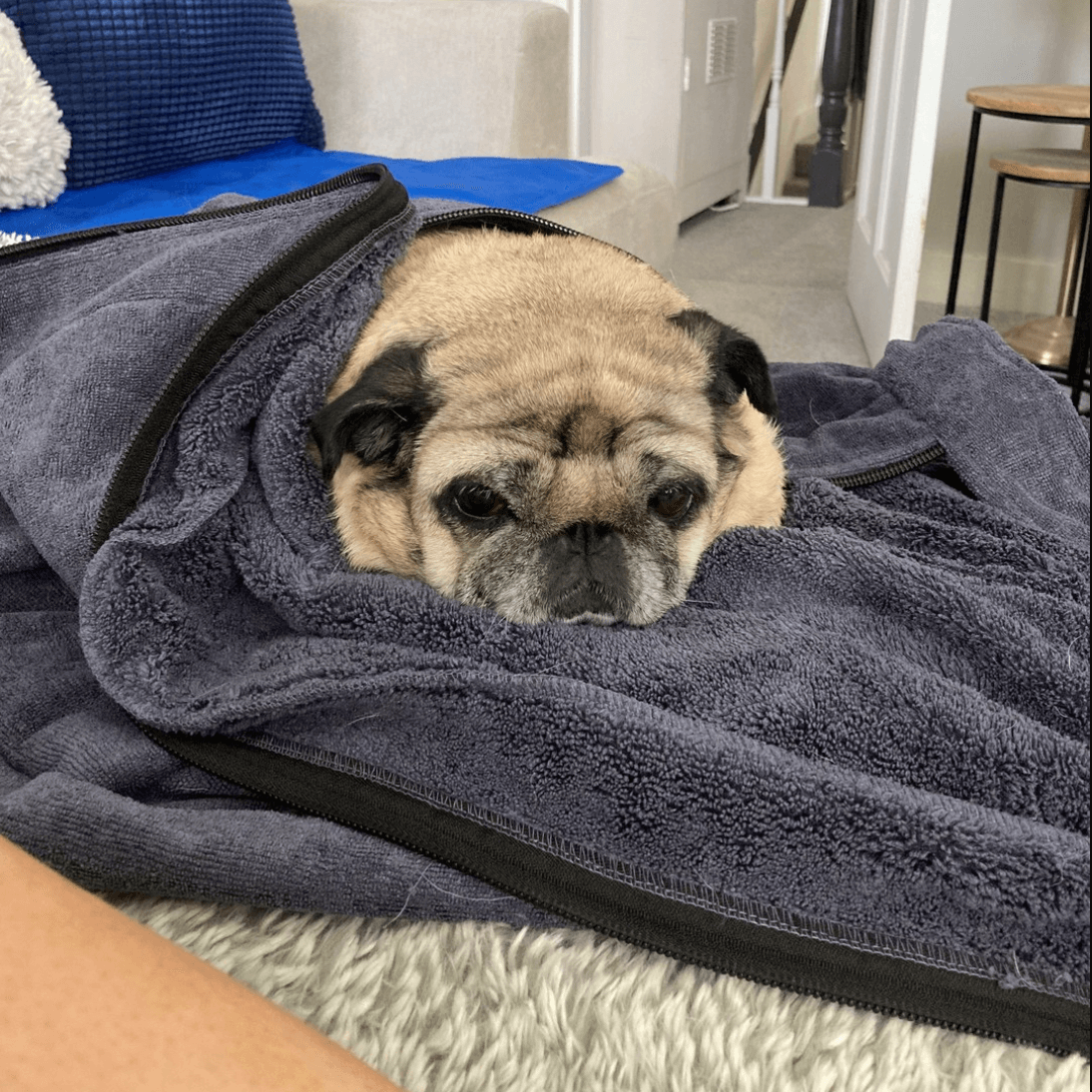 ★★★★★
"What a different this drying bag has made! it's amazing and so much better than a normal towel. Really does dry your fur baby quicker. The quality is superb and really does look and feel luxurious. Don't hesitate people, get your orders in!! My fur baby didn't even want to come out of it and fell asleep all snuggled up :-)."
- Michelle
The Ideal Companion For...
Wave Goodbye to Muddy Paws With Our Dog Drying Bag
Order your luxury dog drying bag today for 100% money back guarantee
All copyright, design rights and intellectual property rights existing in our designs and products and in the images, texts and design of our website/marketing material are and will remain the property of Pawdaw of London. We will treat any infringement of these rights seriously.
We Accept The Following Payment Methods
©2023, Pawdaw of London, All Rights Reserved