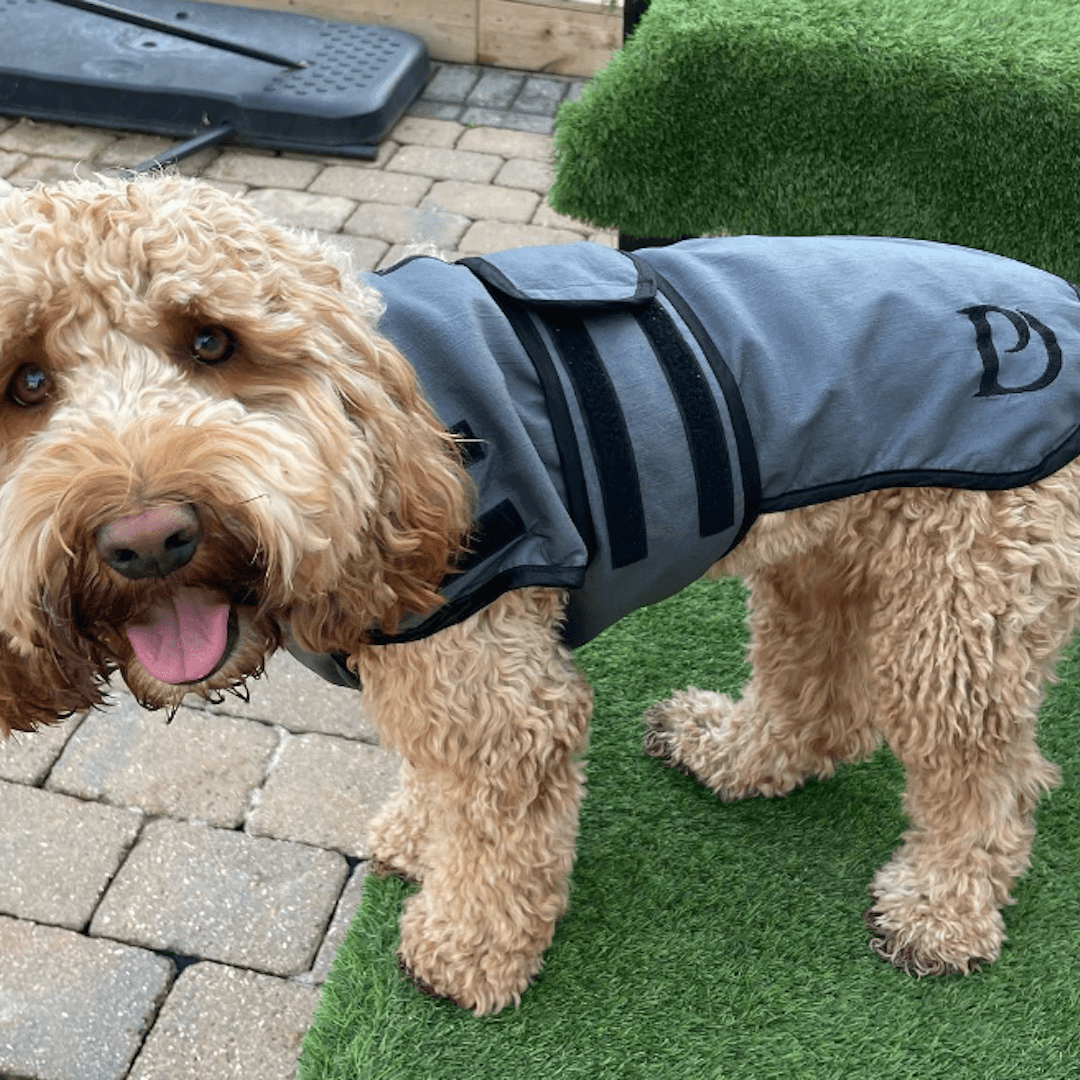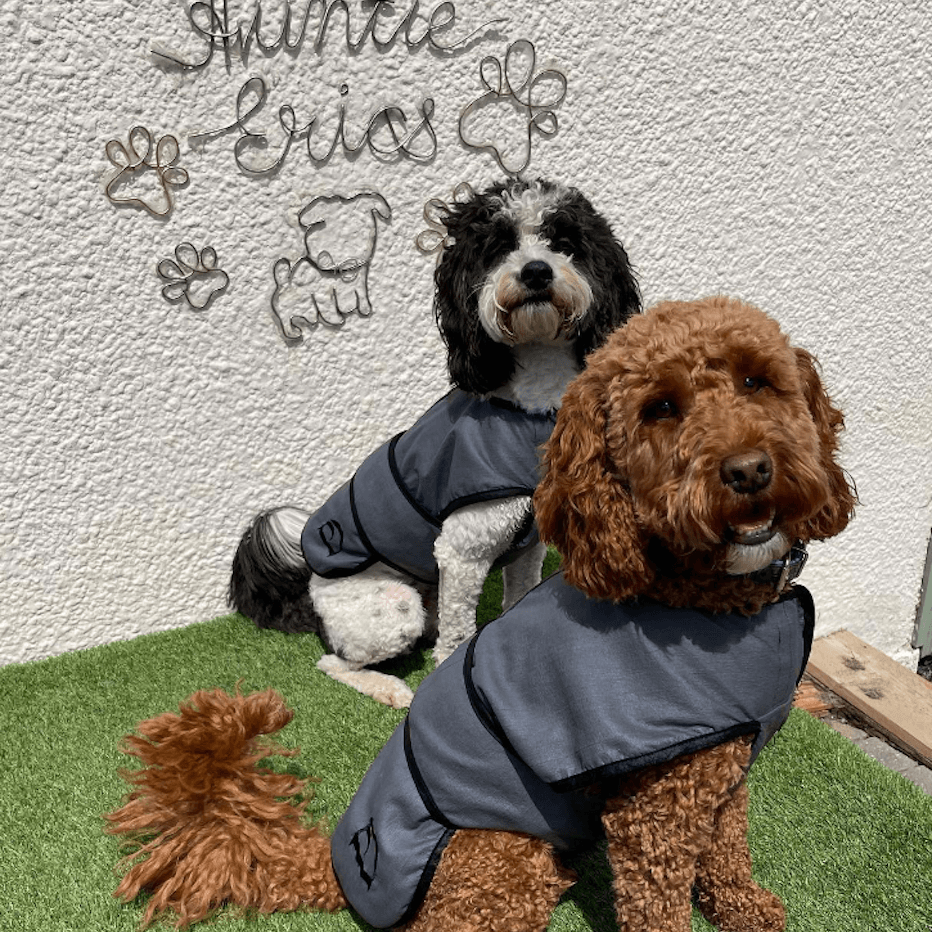 "What an amazing idea! Not only does it keep him cool, it's light and so easy to use! It's a complete game changer!" - Chanel
Luxury Dog Cooling Coat
Helps Prevent Heat Stress & Stroke

Covers Heart & Chest Area For Maximum Cooling

Just Add Water, Up To 5 Hours Comfort Per Soak

Protect Delicate Skin From Sunburn And UVA Rays

Super Absorbent, Lightweight And Breathable Material

Lint-free & Machine Washable
100% Money Back Guarantee
Helps Prevent Heat Stress & Stroke

Covers Heart & Chest Area For Maximum Cooling

Just Add Water, Up To 5 Hours Comfort Per Soak

Protect Delicate Skin From Sunburn And UVA Rays

Super Absorbent, Lightweight And Breathable Material

Lint-free & Machine Washable
A magical way to keep your pup cool and calm in the hot weather.




All you have to do is add water, and your pup's portable air conditioning unit will be activated! The super absorbent material will help keep your pup cool for up to 5 hours, even during heatwaves!




Remove the worry about your dog overheating for good. The Pawdaw of London Luxury Dog Cooling Coat gives 100% peace of mind that you have protected your pup from the deadly effects of heat stress & stroke. Unlike many others, our Cooling Coat doesn't need constant re-soaking and is made from soft breathable fabric which allows air to circulate freely even during periods of exercise. The design also ensures the cooling fabric covers the heart and chest areas to help lower temperature and bring down the heart rate.

Directions of Use:




First, make sure the cooling coat fits your dog before soaking it for the first time.




Soak the coat in water, ensuring there are no light grey patches left. Place on your dogs back, checking the logo is on the outside, fasten the Velcro in front of their neck, pass through their legs, ensuring the strap doesn't twist, then fasten the Velcro around their middle.




We recommend that the cooling coat is placed under a harness, rather than over the top, for optimum cooling performance.




The breathable material will allow air to circulate freely even during periods of exercise. Resoak as required.




Care Guide:




Machine wash at 30° degrees, before allowing to dry naturally (we don't recommend fabric softener or using a tumble dryer).

Shipping




Royal Mail Tracked 48 £3.99 (2 - 3 working days)

Free Shipping Over £60 (2 - 3 working days)




Processing Time




All orders are processed and shipped out in 1-3 business days. Orders are not shipped on weekends or holidays.




Returns




We know you'll love our products, but for added peace of mind every product is backed by our 90 Day Trial Guarantee*. If you've ordered the wrong size, or you're not happy for any reason - let us know and we'll make it right. To start a return, contact us via one of the methods below:




Call: 020 8099 9817

Email: info@pawdawoflondon.com




* Excluding discount or sale items

** Return postage is to be paid solely by the customer.

✓ Backed by Pawdaw's 90 Day Trial Guarantee
"These luxury cooling vest are true heatwave heroes to survive the summer! ⭐️⭐️⭐️⭐️⭐️ They look so stylish and are perfect to keep our old dog comfortable and our younger dog happy. Pawdaw London we're also very helpful to get the sizing right! It's worth measuring your dog before ordering and asking if your not sure. Brilliant service and lovely small company to buy from."
Annalisa - Our Luxury Cooling Coat Customer
What Makes Our Dog Cooling Coats Better?
Long-lasting Cooling effect
Our dog cooling coats have undergone real-life testing to ensure the coolest results at 30°C! The super absorbent material stays wet for up to 5 hours, even on the hottest of days. Depending on the temperature. We recommend re-wetting the coat every 3.5 - 5 hours, to maintain your pup's coolness. Simply add water to activate your pup's personal portable cool bath! To help your pup dry off, you can also use one of our dog drying towels.
Help your pup beat the heat
You never have to worry about your dog overheating during hot days again. Our cooling dog coats protect your four-legged friend from the deadly effects of heat stress & stroke which can be life-threatening to your pet's wellbeing.  Pair them with one of dog drying bags for the ultimate pampering!
Soft and comfortable
There is no need to re-soak your dogs cooling coat. It stays wet for long periods, ensuring coolness all day long. Our coats don't dry hard and rigid, they stay soft and comfortable, reducing the risk of rubbing or irritation on your dog's skin. Your dog can even chill out in the shade in their cool coat on one of our luxury dog blankets! You can explore our entire range of luxury dog products to keep your pooch perfectly pampered throughout the summer.
★★★★★
"Perfect great service very quick delivery cool best is amazing made a big difference to my girls life means she can join us in the garden in the hot weather sleeping like a baby in it before she was suffering with the heat she seems very comfortable in it it's easy to put on I'm very happy with it"
- Tracey
★★★★★
"Remy was so pleased with her new cool vest, it's a pleasure to take her for walks in this warm weather knowing she is not getting too hot."
- Mary
★★★★★
"I find the cool coat stays wet for hours and I refresh it part way through the day on extra hot days. It is a great fit and easy to adjust with plenty of velcro for individual fit. I love the fact that it covers her chest and abdomen as previous cool coats I have bought over the years have only covered her back. It is easy to get on, take off and does not go stiff when dry like other styles and brands. It is a nice looking product and the quality is amazing."
- Shona
★★★★★ 5/5
Make it a Great Summer with Our Dog Cooling Coat
Order your luxury cooling coat today for our 100% Money Back Guarantee!
All copyright, design rights and intellectual property rights existing in our designs and products and in the images, texts and design of our website/marketing material are and will remain the property of Pawdaw of London. We will treat any infringement of these rights seriously.
We Accept The Following Payment Methods
©2023, Pawdaw of London, All Rights Reserved